2017/9/19 CD product
2017/9/18 Upcoming Event
2017/9/17 Gallery
Tessera Music Festival "atarashii-mimi" vol.21
3td-4th-5th-Nov. Open 16;00-
1st night: Sanae TAKAgi [pf]
 co-stars:Mariko AIKAWA [vn], Kimiko SHIGEMATSU [cl] and Akio UEKI [vc]
2nd night: Akane KUDO [vo] with Yumiko MEGURI [pf]
3rd night: Yuji TAKAHASHI with Julia Hsu [pf]
the Agency for Cultural Affairs Art Festival
Akemi NAITO(mezzo soprano) Recital
〜Arnold Schoenberg's songs  4rth night
Das Buch der hängenden Gärten
10th Nov.  Open 18:30- Start 19:00-
Tokyo Opera City Recital Hall
TICKET
03-5353-9999 [Tokyo Opera City ticket center]
03-3821-5166 [Nisseikyo online shop]
CONTACT [staff : Yamazaki]
Yumiko MEGURI [pf] Joji SAWADA [bass] Naoya NUMA [ds]

〜Classical, Contemporary and Sience〜
8th, December
Open 19:00- Start 19:30-
Omotesando ZIMAGINE  03-6679-5833
tickert
¥2,500- [have to order one drink] 
Mail  :  zimagine.genonsha.co.jp
Tradition in Body & Creativity in Breathing
Jun 2018 (Thu)
Venue : Kagoshima・MBC Media Hall
2017/4/7 on releas
■ Schott
Keiko HARADA Midstream
Musicians
Keiko harada, composer
Hussong Stefan
Ruck Juergen
Livine Carin
Svoboda Mike
Meguri Yumiko
Kikuchi Naoka
Producer : Wergo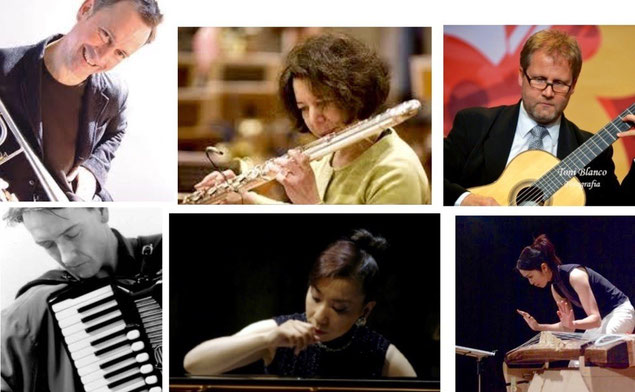 Keiko HARADA  4th Portrait CD    "Third Ear Deaf "
Musicians 

Stefan Hussong, Accordion
Naoko Kikuchi, 13&17 Strings Koto
Producers : Wergo & カリン・レヴァイン 
Recording : @ Radio Bremen, Germany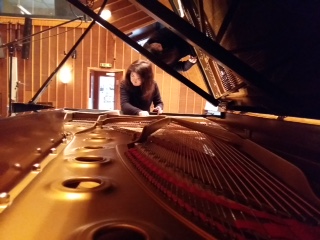 During recording session at Radio Bremen
Concert's schedule  in Taiwan in 2016

Dec. 2nd   :  with Taipei Dance Circle
Dec. 3rd :   Keiko Harada portrait concert
Dec. 4th :  with Stefan Hussong
→2nd December 2016 (Fri)
Collaboration with The Tiwanese Contemporary Dance Company (For more information chasing)
→3rd December 2016 (Sat)
International Society for Contemporary Music( ISCM)
【The private exhibition of Chamber Music by Taiwanese×Japanse×German Musician 】
invited composer : Keiko Harada
player : Stefan Hussong(acc), Yumiko Meguri(pf) others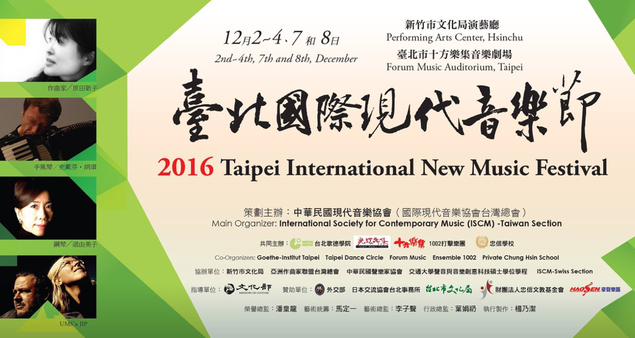 20th Octorber 2016 (Thu)
Venue: OjiHoll (Ginza Tokyo Japan)
Time:19:00
【Mutsumi Hatano  Modification of Song Series vol.11】
mezzo sopurano : Mutsumi Hatano
counter tenor : Xiao Ma
piano : Yumiko Meguri
others
4,5,6th November 2016 (Fri,Sat,San,)
【Tessera Music Festival "atarashii-mimi" vol.19】
1st night : Kouno Aya(vn), Yoshito Numasawa(pf)
2nd night : Stefan Hussong(acc), Yumiko Meguri(pf)
3rd night : Yuji Takahashi(com,pf),  Shin Sasakubo(guit)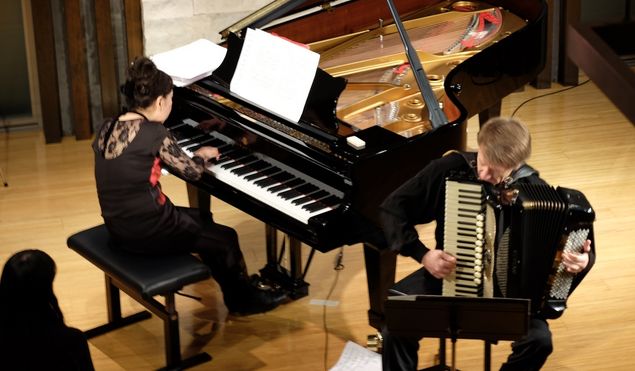 Thank you very much for attending our Special Performance at Chofu Festival Music Cafe!
A special collaboration with original video, percussion, and piano 4 hands. 
programme:
Stravinsky: Petrouchka
Yumiko MEGURI & Ichiyu TANAKA (Piano 4 Hands)
Ryusuke SOGA (Percussion)
26th JUNE 2016 (Sun)   
11:30am start (11:00am Open)
"Murasaki Hall" at Chofu Bunka Kaikan Tazukuri First Floor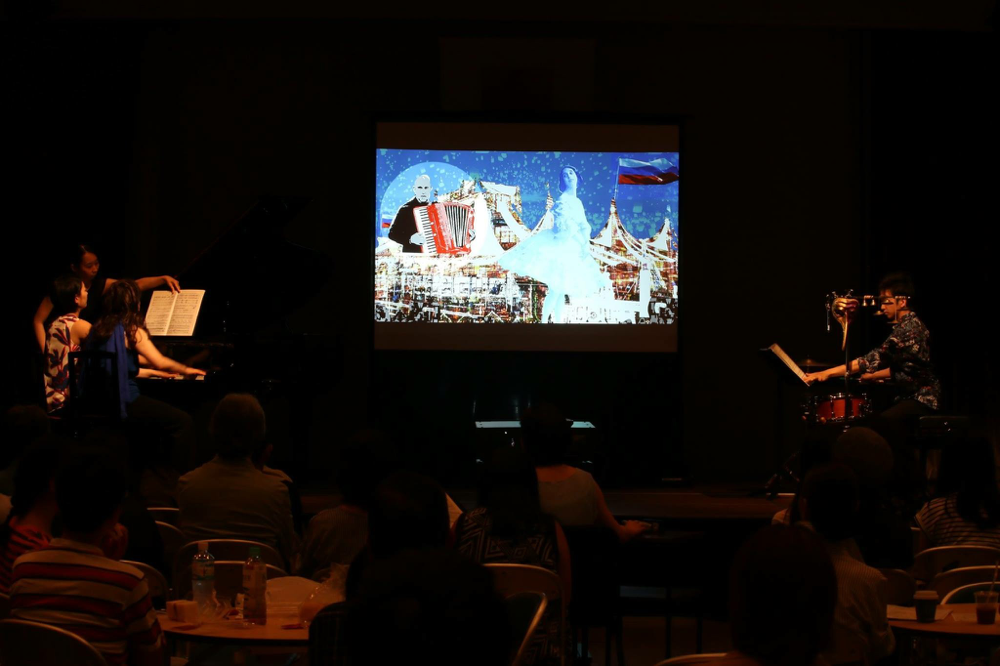 It was a great pleasure to have many audiences coming to our concert "Mutsumi Hatano & Yumiko Meguri: Yuji Takahashi's Song Book". Thank you very much for your warm supports. I'm looking forward to seeing you again at other concerts and events.                                                                                                                                       Yumiko Meguri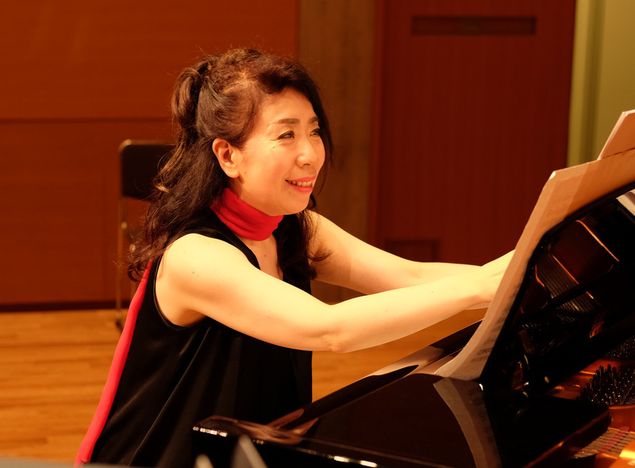 Photo taken during rehearsal
17th Jan 2016 (Sun) & 24th Jan 2016 (Sun)
08:10-09:00 NHK-FM, Gendai No Ongaku (Radio Programme)
Boardcasting of Keiko HARADA's portrait concert (recorded live on 27th Oct 2015 at Suntory Hall).
Programme (for 17th Jan)
Keiko HARADA : Piano Concerto (World Premiere)
piano : Yumiko MEGURI
conductor : Ken'ichi NAKAGAWA
orchestra : Members of Ensemble Modern and Toho Gakuen Orchestra

http://www4.nhk.or.jp/P446/
NEW!
An article by Thomas Hell (pianist) on Tessera Music Festival is being published on NZM (New Journal of Music, first issue in 1834) in German. 
Japanese Translation of the article publised on NZM.
atarasii mimi japanese.pdf
"F. Fragments" (Wergo, Germany)
3rd Portrait CD of Keiko Harada (Composer)

Performed by Yumiko Meguri (Piano) and Stefan Hussong (Accordion)

Conversation in English : Performing for the sake of Performing